Today's interview is with Mark Hurst, who founded Creative Good in 1997, a New York based consulting and services company focused on the customer experience. Today, he joins me to talk about his new book: Customers Included: How to Transform Products, Companies, and the World – With a Single Step, that he recently co-authored with his colleague Phil Terry.
This interview follows on from my recent interview: How to create a successful, mission driven business in a profit driven world – Interview with Seth Goldman and Barry Nalebuff of Honest Tea – and is number seventy seven in the series of interviews with authors and business leaders that are doing great things and helping businesses innovate, become more social and deliver better service.
Here are the highlights of the interview with Mark: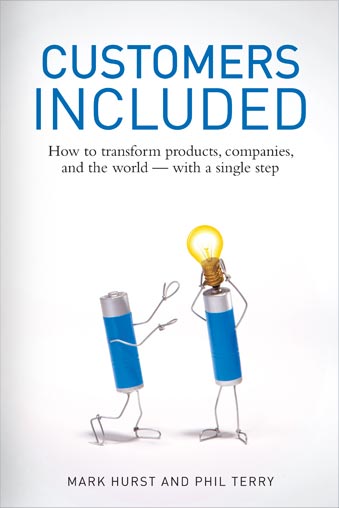 Mark has just published a book called: Customers Included: How to Transform Products, Companies, and the World – With a Single Step, that he recently co-authored with his colleague Phil Terry.
It's essential to include customers in some significant way in the innovation or decision making process.
All too often, many companies/organisations launch new initiatives or take decisions without involving customers/users/patients/citizens etc that will be affected in the decision making process.
Being customer centric is impossible as executives and companies have many stakeholders including shareholders, investors etc. Therefore, it is silly to say that everything revolves around the customer.
However, the challenge is that if customer centricity is not achievable then many firms choose to just ignore customers and focus on other areas. This is a mistake.
Steve Jobs did say that 'customers don't know what they want til they see it'….. but he didn't suggest that firms should ignore them. In fact, what he did go on to suggest was that firms should start with the customer experience and work back to the technology.
The book includes case studies of firms that do include their customers but also a couple of examples of cases where they haven't and what that has cost them. Two particular examples are the Department of Homeland Security's launch of The Secure Border Initiative (SBInet) and the impact of Netflix's 60% increase in its monthly subscription price, without prior warning, in July 2011. You can read more about both case studies here.
These examples show that companies do commonly ignore customers in the innovation and decision making process.
When it does happen it can be very, very expensive.
Including customers in innovation and decision making requires three basic steps:

1. Observe customers directly.
2. Discover customers' key unmet needs.
3. Build consensus across the organization to meet those needs.

The book is broadly organised around these three topics and goes into them in greater detail.
These are not new ideas. But, despite them not being new and not being complicated, many companies still don't do any of those steps.
People often cite organisational politics as a major barrier to getting new ideas or initiatives off the ground. However, Mark would suggest that getting all stakeholders involved in the research phase of 'Observing customers directly' tends to help get past many of the political issues. Why? Well, they may not listen to each other but they will listen to their customers.
Let's not be so enamoured with our methods and buzzwords that we forget what this is all about….including the customer and delivering a better customer experience.
Building consensus requires the involvement of stakeholders from across the business and isn't just about the customer service, sales or marketing departments. It's forces people to get out of their silos.
This is not a book about the discipline of customer experience. This is a book about what we are here for when we do business or innovation.
Drucker: There is only one reason for the existence of a company and that is to create a customer.
What is the great benefit that your company is trying to create for the customers that you serve?
Customers are an essential part of the innovation process but they're not the only part.
If you are an executive, say, and you haven't gotten in front of a customer in the last year or so then make the effort to do so. Whatever the context, just watch, ask some questions and try and learn how your product/service fits into their lives. You'll be surprised by what you learn.
The book is available at www.customersincluded.com
About Mark (taken from his bio on the book's website)
Mark is Founder and President of Creative Good, a New York based consulting and services company focused on the customer experience.
Mark, who founded Creative Good in 1997, has spent his career writing and speaking about how organizations and individuals can create better customer experiences. In 2003 Hurst founded the Gel conference, which annually spotlights people and projects that create some good experience. Hurst also wrote Bit Literacy, the 2007 book about managing email and information overload, and created Good Todo, the mobile productivity suite. He holds bachelor's and master's degrees in computer science from MIT and lives in New York City with his wife and son.
You can connect with Mark on Twitter @markhurst and LinkedIn. Finally, don't forget to grab a copy of the book at www.customersincluded.com
Thanks to Howard County Library System  for the image.