Research released earlier this year by Sabio and the Customer Contact Association showed that anywhere between 25% and 40% of the calls that are being handled by UK contact centers are unnecessary or avoidable. According to the research, the most common causes of these calls were:
Customers chasing information about deliveries, how to apply for a particular business service, or being unsure as to what is due to happen next in the purchase cycle, and when.
Customers calling to clarify complicated pricing and other terms and conditions issues.
Customers feeling they had to repeat their call as the call center failed to take action, or the appropriate action.
While some of these problems must be addressed personally and on a case-by-case basis, many also pose a great opportunity to offer solutions to the problems … before they even become a problem. Through better initial education, you could save your customer service team a huge amount of time and effort, and by extension, deliver better customer service.
In particular, I believe that the inbound marketing tenet of creating quality, educational content could go a long way to helping solve some of these customer questions and problems as they arise. There are plenty of ways to do it, and there are already several leading companies in the US and UK demonstrating content's ability to alleviate customer service issues. Here are some examples of how real companies are taking advantage of marketing content to provide better customer service.
How Real Companies Use Content to Improve Their Customer Service
Zendesk Uses Content to Explain Product Updates

Product-based companies typically have customer service teams that are flooded with questions whenever new updates or features are released. That's why cloud-based customer service software and support ticket software provider Zendesk is wise to use their company support site to communicate their product and software update announcements. The site not only explains what the updates are — it allows customers to post questions, read training guides so they can self-educate, and watch instructional videos for those that prefer to learn by watching instead of reading. This vibrant user community helps answer many questions before they ever reach a Zendesk customer support representative.
first direct Leverages Non-Written Content to Educate Customers

This UK phone and internet only bank doesn't just write white papers and ebook. They've invested in content like videos, interactive calculators, and detailed visual guides to both educate and support their customers. They particularly excel at educating their new customers that are just getting started with direct banking.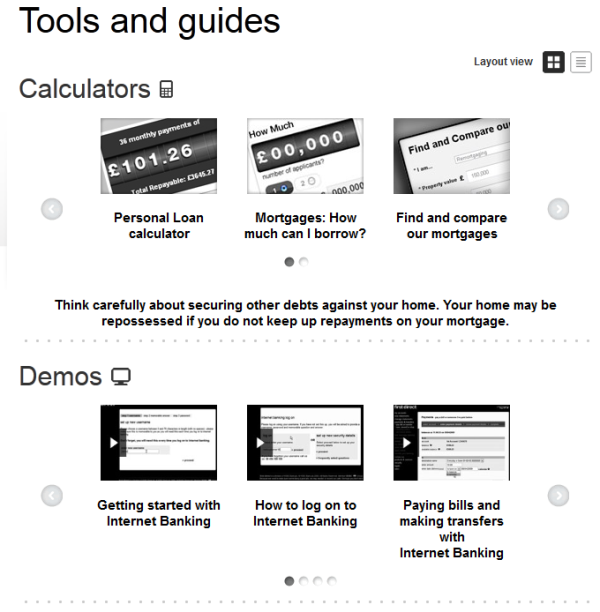 Taking the route of making your customers better at not just using your product or service, but being generally better educated about the problem your product or service sets out to solve, helps alleviate those long consulting-based customer service calls that occur when customers "don't know what they don't know."
Debenhams Creates Buying Guides to Reduce Returns and Exchanges

Debenhams, one of the leading department stores in the UK and a customer service champion, uses their site to provide detailed buying and sizing guides for every product they carry. Just look at the variety: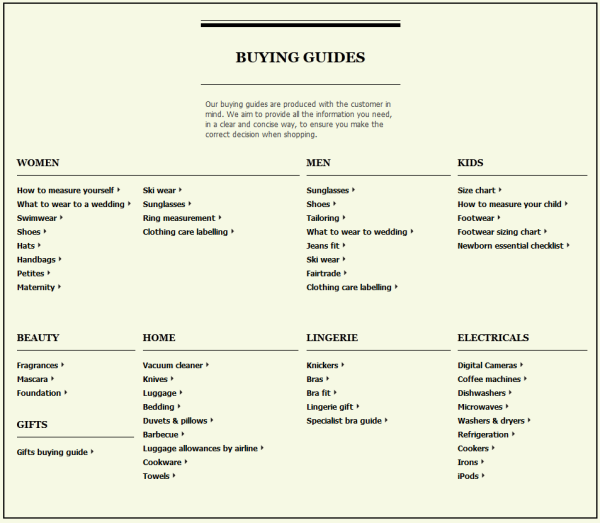 That's a serious investment in content creation. What's it all for? To help mitigate the need for returns and exchanges, the types of calls and inquiries that can quickly overburden a customer service department, particularly during busy shopping seasons. If your business sells products that boom during the holiday seasons, now's the time to start investing in similar types of content to help prepare your customer service department for this coming December.
Riverview Law Provides Templates to Get In Front of Common Requests

If someone asked you how to do something over and over, it's only logical to create a templated answer to that question for future reference. That's what UK based law firm Riverview Law did when they launched their Myview site, which provides answers to common legal questions, many which come in the form of legal templates. All of these, by the way, are free documents that most lawyers would normally charge for. And keep in mind these templates require registration, so the opportunity for upselling and cross-selling is ripe, indeed.
Zappos Uses Blog Posts to Create Power Users of Their Products

US online shoe and apparel shop Zappos is often lauded for its online and phone based customer service. However, they also go the extra mile for their customers by writing blogs and creating instructional videos on all things from how to pack using a certain product, to how to use a hairdryer properly.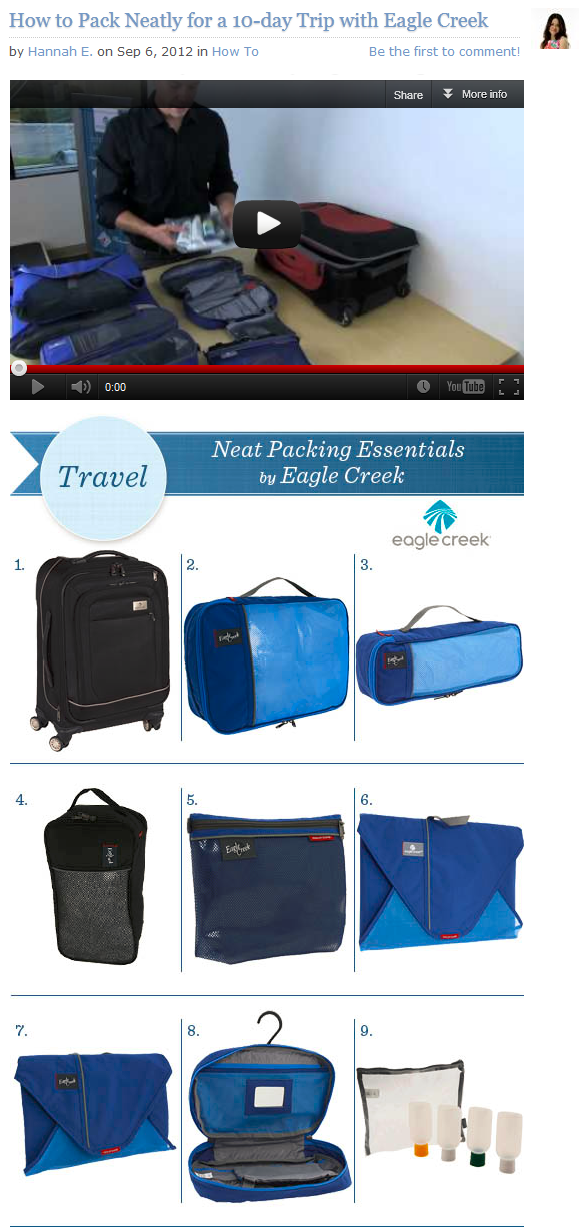 What does this do for their customer service team? It helps customers envision more ways to use the products they've purchased, increasing the likelihood they're happy with their buy. A "power user" of that Eagle Creek suitcase would know all the nooks and crannies of the luggage and all the creative ways to use it, and as such would never want to give it up.
One thing all of these companies have in common is that they believe by better understanding their customers and their common questions, they can build and develop their content accordingly. This allows them to make their customer support more proactive, and much of it self-service focused. This also allows them to send their customers links to resources they have developed based on an understanding of their maturity and needs. Take Zappos, for example — I could imagine speaking to one of their agents, and upon completing an order, receiving a link to a post or a video that they think I might find interesting and useful based on my purchase.
So, where to get started?
I would suggest that you start by asking a series of questions:
Who are your customers, what are their personas?
What do they like, and what are they interested in? (Remember, people buy from people they like, share interests with, and feel comfortable with.)
What questions will each persona have?
What will be each persona's top concerns?
What will each persona want to know in each stage of your buying process?
If you generate content — in whatever form is most appropriate — to answer all of these questions, you'll be well on your way to amassing a significant resource base that will be of great use to your customer service representatives, and your existing and future customers.
The net result of all of this, of course, is that it allows you as a business to develop trust and loyalty with your existing customers. Further, by optimizing your content for search so that it gets found and shared by an organic audience, it can demonstrate your helpfulness and customer focus to new leads and potential future customers.
This post originally appeared on the Hubspot blog in September of last year and is reposted here for your delight and delectation. 😉
Photo Credit: Gerard Girbes via Compfight cc