Today's interview is with Bernadette Jiwa, Founder of The Story of Telling and a recognised global authority on the role of story in business, innovation and marketing and the author of a number of best-selling books on marketing and brand storytelling. Bernadette joins me today to talk about her new book: Story Driven: You don't need to compete when you know who you are, why stories and why now, a flavour of some of the stories in the book, why stories are so important and how to find your own story.
This interview follows on from my recent interview – When it comes to B2B customer experience most firms still have a lot of work to do – Interview with Nick Hague of B2B International – and is number 266 in the series of interviews with authors and business leaders that are doing great things, providing valuable insights, helping businesses innovate and delivering great service and experience to both their customers and their employees.
Here's the highlights of my interview with Bernadette:
The idea for Story Driven is informed by Bernadette's work with entrepreneurs and global brands.
The thing about every great business or every great career is that they all have a backstory, a journey to now, which is their history and heritage and compels them to be as they are in the work that they do.
Here's a flavour for some of the stories in the book:

Moyez's chair story: Moyez is Bernadette's husband and is a Professor at a medical school in Australia. Prior to that he was a GP in the UK and he still practices one day a week.

His back story: He was a migrant to Ireland, where Bernadette grew up. He is of Indian descent and on his route to Ireland via Birmingham airport, he, his mother and brother suffered a real indignity that has stayed with all of them since then. He was 10 years of age and they had to strip naked and were then subject to some kind of infectious disease medical examination. It wasn't handled very nicely. This experience informs many things that he does in his practice in medicine. One of those things is what he does in his consultation room. Traditionally, you visit the doctor and he/she is sitting in the big comfy chair behind the desk or they are sat next to you in a comfy chair typing away into a computer. What he does is go and collect the patient from the waiting room, greets and welcomes them and has them sit next to him in a big comfy chair with no computer nearby.
Doing so changes the power dynamic. It makes the patient feel more empowered and he's had great success with that. In fact, patients sometimes ask why they are sat in the big chair and he answers that they are the one that is sick so they get to sit in the big chair.
This story teaches us about empathy and how the smallest things can change everything about an experience.
There is a danger that the more senior, more experienced, more qualified that we get the more importance we ascribe to them. That creates a culture of deference, which in turn, doesn't help with the communication process.

Tor Sornes' story: This is a story about Assa Abloy, who are a global leader in access solutions.

Part of their backstory for their hospitality brand came from this lone Norwegian lock maker called Tor Sornes. He was a lock engineer and absolutely loved the singer Connie Francis. One day he heard on the news that she'd been attacked in a hotel bedroom whilst out on tour. Being a huge fan, he decided that this was not acceptable, shouldn't happen again and that people needed to feel safe when they traveled. Therefore, he invented the hotel key card, that many of us all use and take for granted now.

Bernadette makes the distinction between the right story and the real story.
The interesting distinction between the right story and the real story is the real story is the authentic story and that's the right story to be telling as opposed to in marketing we tend to think about finding the right story to do X Y Z.
The right story to tell is the real story, the truth.
Click here to download the Story-Driven framework. It has five levels:

1. It starts by asking you to define the backstory of your journey to now.
2. From there you go on to define your values, which are your guiding beliefs.
3. On top of that, you then define your purpose (reason to exist).
4. From there, you articulate your vision or aspiration for the future.
5. Finally, you develop your strategy which aligns opportunities, plans and behaviours.

The whole story driven approach is informed by the fact that purpose sometimes tends to be about how we get from here to there and we really need to think about how we got from there to here e.g. Moyez's example.
Changing the world does not have to be about changing the whole world it could be all about changing your tiny corner of the world.
Miss Gertrude Salon's story: This is Bernadette's local hairdresser and it was started by an introverted Scottish girl, who now lives in Melbourne.

However, her salon is like a sanctuary and is completely reflective of her. It's not your typical hair salon, which are normally kind of noisy and full of introverts. This salon has a completely different vibe and it's intentional. The salon is completely staffed by introverts and they've got this culture of taking responsibility, sharing the work and really taking care of people.
She's been able to create this great culture by being who she is and by bringing the best of herself to the work that she does and doing something she's proud of.

Heat Holders Thermal Socks' story: A UK brand that tried not to get caught up in the textile manufacturing 'race to the bottom'.

Three generations of their family had work in this business. They got to the point where they were frustrated with the direction the industry was taking…..the never ending quest to make socks thinner and cheaper. They got to the point where they woke up one day and said 'Hang on a second we're not proud of this anymore'. What they ended up doing is flipping the whole thing on its head and now rather than trying to make the cheapest socks they now focus on trying to make the best thermal socks in the world.

Start by asking yourself to remember the reason you started.
Bernadette is yet to find a business that was not founded on some great intention to change something.
Stories are a catalyst for change.
People should spend more time reflecting on who they are and what it is they want to change and less time comparing themselves to others and wondering how other people are getting on.
Check out and grab a copy of Bernadette's book: Story Driven: You don't need to compete when you know who you are.
Bernadette would also like everyone to check out The Marketing Seminar by her friend, Seth Godin.
About Bernadette (adapted from her bio here)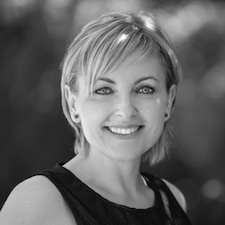 Bernadette Jiwa is the Founder of The Story of Telling and a recognised global authority on the role of story in business, innovation and marketing, a Business Advisor, Keynote Speaker and Bestselling Author of a number of #1 Amazon Bestsellers.
Her blog was voted Best Australian Business Blog in 2012, Smart Company named it one of Australia's 20 Best Business Blogs in 2014, it topped the list in 2016 and Seth Godin listed it as one of the marketing blogs he reads.
She has spoken TEDx about the secret to spreading ideas and is one of the Top 100 Branding Experts To Follow On Twitter.
Bernadette advises, consults with and speaks to Fortune 500 companies, startups, entrepreneurs and business leaders from around the world, helping them to build their brands and become meaningful to their customers.
She's created brand names, communication and innovation strategies and brand stories to launch and evolve bold ideas; from football boots to a medical journal, businesses to blogs, books to Kickstarter projects, non-profits and more.
Her fascination with brand storytelling and marketing began at the age of 10 in her little brother's Action Man days—when they figured out that the collectible stars on the packaging, were just as valuable as the khaki outfits and grenades inside.
She grew up in Dublin, the storytelling capital of the world and now lives in the world's most liveable city, Melbourne Australia, with a cafe on every corner, surrounded by brand storytelling inspiration at every turn.
Check out Bernadette's new book: Story Driven: You don't need to compete when you know who you are, the rest of her books and The Story of Telling. Finally, connect with her on LinkedIn here and say Hi to her on Twitter @bernadettejiwa.
 ..
..
..
Thanks to Pixabay for the image.