Today's interview is with Bernadette Jiwa, Founder of The Story of Telling and a recognised global authority on the role of story in business, innovation and marketing and the author of five best-selling books on marketing and brand storytelling. Bernadette joins me today to talk about her new book: Hunch: Turn Your Everyday Insights into the Next Big Thing, big data, decision making, where hunches come from and how we can develop our own hunches.
This interview follows on from my recent interview – How to rapidly scale and still maintain the highest customer service standards – Interview with Ed Ariel – and is number 227 in the series of interviews with authors and business leaders that are doing great things, providing valuable insights, helping businesses innovate and delivering great service and experience to both their customers and their employees.
Highlights from my conversation with Bernadette:
Bernadette is an old friend of the podcast and was a guest back in 2013: Outstanding brands become part of their customers story – Interview with Bernadette Jiwa
Today we talk about her new book: Hunch: Turn Your Everyday Insights into the Next Big Thing.
The work that Bernadette does is all about helping businesses tell their story.
With the advent of big data, Bernadette has noticed that companies and leaders are losing faith in their ability and judgement to make good decisions/calls about their ideas.
The people and entrepreneurs that we really admire didn't have big data, they found 'data' in other places and they learned to trust their gut instinct. They also realised that you never have all the information that you need.
Many organisations are using big data as a crutch and gives them a sense of 'deniability'.
Data isn't just something that you plot on a spreadsheet.
If you are just spending time looking at data that you can plot on a spreadsheet, then when are you spending time face to face with the people you hope will love your products/services?
Just before the recent US presidential election, Bernadette and her husband were in NYC on business. Whilst there Bernadette's husband attended the Behavioral Summit in NYC. There was a lot of talk about the election with all the data pointing to a Clinton victory. However, walking around NYC Bernadette and her husband came across a hat salesman near the Rockefeller Center. He was selling beanies to tourists with the two presidential candidates names on them. Being a great salesman, he got Bernadette and her husband to stop and start chatting. He told him that he thought that Trump was going to win. They thought he was a lunatic but he said that he couldn't keep stock of the Trump beanies as they were selling like hot cakes. What he was seeing and being privy to was how people were connecting with the Trump story. In additon, Bernadette and her husband then, and susequently, realised there is a real difference between what people do and what they will tell you in a survey.
Bernadette believes that we are losing the skill of noticing because we have the data, we have the distraction of modern technology and we are not building any reflection time into our day.
A hunch is both insight and foresight and is about noticing patterns with practice.
Scientists do this all off the time.
However, it is interesting that intuition has recently gotten a bad rap as a result of the great work of people like Daniel Kahnemann in the field of behavioural economics, where he suggests that intuition can, at times, be quite flawed. However, the flip side is also true.
Scientists always start with hypotheses i.e. hunches.
Many scientists including Einstein and Hawking talk of making intuitive leaps.
The three stand out traits that leading entrepreneurs and scientists have are curiousity, empathy and imagination.
These are not innate abilities. They can be learned.
"Everything around you that we call life was made by people that are no smarter than you" – Steve Jobs.
Bernadette tells the story of engineer Debbie Sterling, who noticed that girls weren't taking up engineering and that that had a lot to do with how the toy industry worked. However, she noticed that girls had, generally, superior language skills than boys and that if she created a story that wrapped around building or construction related toys then girls would retain their interest in building things…..and to maintaining and developing interest in engineering related disciplines. She went on to found GoldieBlox, an award-winning children's multimedia company disrupting the pink aisle in toy stores globally.
DollarShaveClub, the California-based supplier of razors and other personal grooming products to customers by mail, is another example where the business was started by the founder noticing that the whole shaving experience for many men was not great and could be so much better. From their launch in 2012, they have grown rapidly, internationally and have also expanded into other categories like haircare as well as products for women. Check out their "Our Blades Are F***ing Great" launch video that went viral and has now been watched over 24 million times.
To get better at developing your own 'hunches', here's what Bernadette recommends:

1. Build in some quiet reflection time into your day – Turn off your phone at certain times of the day. Don't always be multi-tasking. Sit, do nothing, be quiet and start noticing things; and
2. Get used to the idea that you will be wrong sometimes as that is part of the noticing, creative, learning and discovery process.

The next big thing doesn't have to be something that everyone is going to adopt.
Wow service/experience to Bernadette is all about the tiny things and noticing and fixing the tiniest of details. It's all about doing something small that you don't have to do.
Bernadette plugged Seth Godin's blog but do check out her new book: Hunch: Turn Your Everyday Insights into the Next Big Thing.

About Bernadette (adapted from her bio here)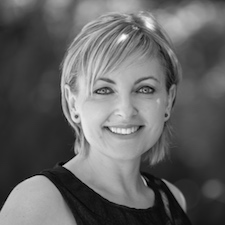 Bernadette Jiwa is the Founder of The Story of Telling and a recognised global authority on the role of story in business, innovation and marketing, a Business Advisor, Keynote Speaker and Bestselling Author of five #1 Amazon Bestsellers.
Her blog was voted Best Australian Business Blog in 2012, Smart Company named it one of Australia's 20 Best Business Blogs in 2014, it topped the list in 2016 and Seth Godin listed it as one of the marketing blogs he reads.
She has spoken TEDx about the secret to spreading ideas and is one of the Top 100 Branding Experts To Follow On Twitter.
Bernadette advises, consults with and speaks to Fortune 500 companies, startups, entrepreneurs and business leaders from around the world, helping them to build their brands and become meaningful to their customers.
She's created brand names, communication and innovation strategies and brand stories to launch and evolve bold ideas; from football boots to a medical journal, businesses to blogs, books to Kickstarter projects, non-profits and more.
Her fascination with brand storytelling and marketing began at the age of 10 in her little brother's Action Man days—when they figured out that the collectible stars on the packaging, were just as valuable as the khaki outfits and grenades inside.
She grew up in Dublin, the storytelling capital of the world and now lives in the world's most liveable city, Melbourne Australia, with a cafe on every corner, surrounded by brand storytelling inspiration at every turn.
Check out Bernadette's new book: Hunch: Turn Your Everyday Insights into the Next Big Thing, the rest of her books and The Story of Telling. Finally, connect with her on LinkedIn here and say Hi to her on Twitter @bernadettejiwa.
Photo Credit: VBC17 Flickr via Compfight cc