Today's interview is with Liz Graham , who is Vice President of Sales and Service at Wayfair, one of the world's largest online destinations for the home. Liz joins me today to talk about a number of things including getting the human and technology balance right when it comes to delivering a great customer experience, innovative recruitment strategies, using predictive analytics and AI to drive proactive service amongst other things.
This interview follows on from my recent interview – Fostering a listening culture is the best way to deliver better customer and employee outcomes – Interview with Rob Pace of HundredX – and is number 202 in the series of interviews with authors and business leaders that are doing great things, providing valuable insights, helping businesses innovate and delivering great service and experience to both their customers and their employees.
Here's the highlights of my interview with Liz:
Did you know that Herb Kelleher of Southwest Airlines started his career as a lawyer? Check out the interview with Herb on NPR's 'How I Built This' podcast series.
Wayfair has been doing some really innovative things with how they recruit people.
For example, they recently traveled to a Comic-Con festival in Salt Lake City, set up a Guardians of the Galaxy stand and took along a bunch of employees too in order to attract talent.
The reason that they did it was that it was both different and coincided with their peak hiring season and it would allow them to generate interest in Wayfair and their nascent social media recruiting.
Through doing this they generated a ton of organic interest and social media coverage as they offered free 'have your photo taken with a Guardian of the Galaxy' photos. They then encouraged people to upload them and share them on Facebook.
Undertaking this sort of activity also generated a lot of engagement amongst their employees who were much more willing to come and talk with potential candidates than they would have been at a traditional job fair.
Not a lot of sales and service teams show up at Comic-Con to engage with potential employees.
Just as importantly….the thinking behind this type of strategy is that they know that there is no one type of person that is successful at Wayfair so they are always looking for different ways and means to engage with a wide variety of people at diverse locations.
All of the easy work or straightforward customer questions have almost vanished or have moved to self-help/service. Therefore, their frontline roles now require deeper level thinking and problem solving skills. As a result, they are changing the way they recruit to reflect that.
The next initiative that they have implemented is called Escape the Room, a physical adventure game in which players are locked in a room and have to use elements of the room to solve a series of puzzles and escape within a set time limit. Wayfair originally used it as a team building and problem solving activity on leadership 'away days'. However, given how much fun it was and the changing nature of the skills and the people they are looking for they decided to introduce it as part of their sales and service recruitment process.
What they have found is that the skills and attributes of the people that do well at Wayfair are highly correlated with those that do well in the game and demonstrate creativity and problem-solving skills.
At the same time as being innovative with their recruitment methods they are also being innovative with their use of predictive algorithms to help their agents deliver more proactive customer service.
For example, given that many of the items they sell are large, household/furniture items then there can be a lot of things that can go wrong with the manufacture and delivery process. Therefore, their technology allows them to monitor the process and will notify them if things go off course or not to plan. That way they can intervene to inform the customer or offer them a solution/alternative depending on the situation.
When they first rolled out this new technology/approach, they A/B tested it to better understand its impact. What they found was that those customers that experienced the proactive service scored them 23 points higher on an NPS scale than the 'control' group.
Being proactive is not a matter of expending extra effort. It's more a matter of choosing when you are going to spend your effort along the customer's timeline.
Wayfair employ an ownership approach when it comes to addressing a customer's issue i.e. if employee A responds to a customer's problem then they 'own that problem from cradle to grave' and they are the sole point of contact (direct email addresses and phone numbers are provided to customers to facilitate that) for that customer until their problem is resolved.
Some firms may express concerns about how this approach scales but that is where Wayfair's self-service, technology and smart routing to expert teams comes into play.
When developing their strategy, Wayfair started with the idea of how could they develop a personalised ownership model to help their customers and how they then could develop and build technology around that allowing them to avoid any 'brute force'.
They are constantly evolving their approach. 
They are building flexible teams that can innovate and respond to ever changing customer needs and what they want to achieve (including advice, mood boards etc etc) rather than just thinking about maximising sales etc.
Ultimately, they are building a full-service, concierge type service model online.
In terms of the future, Liz is really excited about the virtual/augmented reality work that Wayfair's technical teams (Check out WayfairView) are now developing as they will let them bridge the 'see, touch, feel' gap.
One of the biggest things that has influenced Wayfair, and it is something that continues to this day, is that when you start working for Wayfair you always spend time talking to customers.
Liz's advice: find ways for everyone in the company to feel an equal amount of ownership in delivering on the customer experience OR have everyone spend more time on the phones helping customers solve their problems.
Wow service/experience for Liz is all about understanding the customer. So, for example, if a customer calls and wants to return something….by all means help them do that but aim to go further and better understand what went wrong with the thing they want to return as you may still be able to help them.
To help with that, Wayfair are now in the middle of another little experiment where they are exploring the use of sales probing/questioning techniques in their customer service teams to see if that can help them help their customers more. The early results from this experiment are looking great.
Do check out Wayfair.com and give their concierge teams a try, regardless of the size of your project. In fact, if you are planning a wedding, or know someone that is, then get in touch with their specialist Registry team who would only be too pleased to help.
About Liz (taken from her Wayfair bio)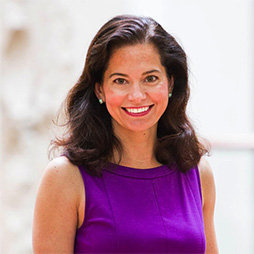 Liz Graham is Vice President of Sales and Service at Wayfair and oversees customer service and sales for all of Wayfair's US and European brands. Prior to joining Wayfair, Liz served as Vice President of IT Operations at HubSpot (HUBS), the world's leading inbound marketing and sales platform, where she created a cloud-based data warehouse to facilitate access to diverse data sets. Liz also served as the Vice President of Operations with HubSpot, where she increased employee satisfaction and cultivated the unique company culture. Before HubSpot, Liz held several senior level operations roles at Comcast Corporation, Northeast Division, including Vice President of Technical Operations and Vice President of Network Operations Centers. Liz earned an A.B. from Harvard College, an M.St from Oxford University and a J.D. from Harvard Law School. She lives outside of Boston with her husband and daughter.
Check out Wayfair, say Hi to them and Liz on Twitter @Wayfair and @E_A_Graham and connect with Liz on LinkedIn here.
Photo Credit: alanosaur Flickr via Compfight cc