Today's interview is with Bill Taylor, co-founder and founding editor of Fast Company, who now spends his time writing books and speaking to leadership audiences. Bill joins me today to talk about his new book: Simply Brilliant: How Great Organizations Do Ordinary Things In Extraordinary Ways, why he wrote it, it's central thesis, who's it for, some of the great stories in it and what's its purpose.
This interview follows on from my recent interview – The rationale behind choosing a high-touch and high-cost route to serve our customers – Interview with Matthias Murin – and is number 197 in the series of interviews with authors and business leaders that are doing great things, providing valuable insights, helping businesses innovate and delivering great service and experience to their customers.
Here's the highlights of my interview with Bill:
Note: The recording is great up until around 3 minutes 20 seconds when, inexplicably, Bill's voice develops a slightly annoying but not totally disrupting echo. Technology grrrr! Apologies, but please persevere. Bill's words are worth it!
Bill's new book: Simply Brilliant: How Great Organizations Do Ordinary Things In Extraordinary Ways moves away from the traditional Fast Company terrain of new start-ups and Silicon Valley to explore stories of innovation and transformation from other and more traditional parts of the economy.
The spirit of the book is to encourage business people, no matter what sector of the economy they come from, to re-imagine and rethink the way that they do business.
In fact, the irony is that when you are in an ordinary or traditional industry it can be easier to do extraordinary things as no one really expects you to.
To illustrate some of the lessons and insights within the book, Bill told me about the following companies that are featured in the book:

Sol, a Scandinavian office cleaning company. SOL stems from Lindström Oy, which originally was a dye-house founded in 1848. It is one of the oldest businesses in Finland still in operation. In 1922, Lindström was purchased by Johan Roiha, who in 1913 had founded a white textiles laundry. In 1991, Liisa Joronen, granddaughter of Johan Roiha, acquired the cleaning and waste services from the family business, gave them a new look and renamed them in early 1992 as SOL. The sunny name was chosen on the basis of the suggestions of the staff.

When Liisa Joronen came into the business she said let's rethink and re-imagine what's possible in this business. She said let's not think of our staff as low-paid, low-skill people but let's start to look at them as mini entrepreneurs and let them run their offices as stand alone businesses as well as letting them set their own targets. (People almost always set higher targets for themselves than their managers would and tend to beat them too).
However, probably one of the most interesting questions Liisa asked was: Why do we go into to our client's business at night?
As a result, they changed things so that their staff now wear very colourful orange and yellow uniforms and now provide their cleaning services, largely, during office hours.
Doing so has allowed their clients to see how talented and resourceful they are and, as a result, their clients have given them more and more jobs to do such as temp staffing, the restocking of shelves, provision of security services etc.
By making their services more visible it has allowed them to develop their relationships with their clients and the trust that their clients have in them, which has, in turn, allowed them to expand into more and adjacent services.
Finally, this approach has also allowed them to retain their employees for much longer in industries that are normally typified by high turnover.

The next story was about Pal's, a very popular fast food chain in the South East of the USA, who are known for their 'sudden service'.

Pal's make promises to their customers that no other competitor can match. The theory is that they will take your order in 18 secs or less, then you drive round to the pick up window and you will sit there for 12 secs or less before you get your food. They are 8 times faster than the second fastest fast food chain in the USA.
They have gotten so good at this that they only make a mistake with an order once in every 3,600 orders, which is 10 times better than the second best fast food chain in the USA.
They are so good at what they do that a few years ago they won the Malcolm Baldridge National Quality Award, which is the highest accolade for quality management in the USA. Previous winners have included Fedex, Ritz Carlton and Cadillac.
They know that they cannot do this if they are not maniacal about their people.
They use psychologists to help them identify their superstars and also use them to help identify and hire people that share the same attributes.
Ever person gets 120 hours of training before they even get close to a customer but, in addition, every day a computer picks two people from each shift at each branch and those people will take a quick test on one of the six or seven jobs that they have been trained to do. They don't get punished if they don't pass the test but rather get routed into a re-certification programme so they can maintain their high standards.
It doesn't stop with skills training. Whenever a person gets promoted into a management or supervision position they have to read and master a list of 21 books that Pal's believe really underpin what they are trying to achieve.
Also, management needs to spend 10% of their time teaching others on how the organisation works and what they need to know.
This runs all the way up to the CEO who runs his own bookclub where every other week he brings together 5 people from around the organisation to discuss one of the books on the '21' list.
Extraordinary things don't just happen. They come out of a platform of ideas, people, commitment and methodologies.
Are we as an organisation (and a set of leaders) learning as fast as the world is changing?
You can't let what you know limit what you can imagine going forward and how you might do things differently in the future.

The final story was about Pret A Manger , the high street sandwich chain.

The company came to Bill's attention when he started to see a bunch of stories saying things like 'What's with all of these smiling and warm people at Pret….?'
Pret is explicitly emotional in how they deal with their customers.
In a world that is being reshaped by technology, Pret stands out by how it hires, trains and delivers and emphasises the human touch.
A smile is always in style as they say in at the dentist's office.

If this type of approach is interesting to you i.e. doing extraordinary things in an ordinary organisation, then Bill suggests that you ask the following question:

If your company went out of business tomorrow, would anybody really miss you and why?

The world is full of perfectly competent businesses so the difference has to be how you connect with your customers, what experience are you giving them, how are you unleashing your people and what are you willing or able to do that your competitors are not?
We are in a world where ordinary is not an option.
More questions to help:

What can we promise that only we can promise?
What can we deliver that no one else can deliver?
What are we the most of in our field? and
How can we become even more of that?
What are we creating in the workplace that allows us to execute that each and every day?

Bill ends the book with a (question) thing that has been gnawing at him for a while:

Can we move as a set of companies and a society as a whole from a winner take all scenario to a model where nobody wins unless everybody has a chance to win?

Wow service or experience to Bill is when he encounters a business that does something that he truly did not expect, is memorable and is worth talking about in the future.
Bill recommends that everyone go and take the really fun (and free) Simply Brilliant Leadership Quiz at his website, which teases out four different leadership styles that support this type of innovation and creativity. Over 20,000 people have taken it so far.
About Bill (taken from his bio on his own site)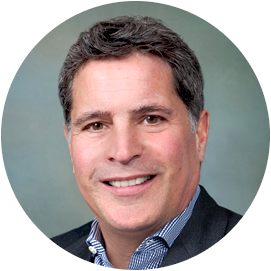 Bill Taylor is a writer, speaker, and entrepreneur who chronicles the best ways to compete, innovate, and succeed. As co-founder and founding editor of Fast Company, Bill launched a magazine that won countless awards, earned a passionate following among executives and entrepreneurs around the world, and became a legendary business success. In less than six years, an enterprise that took shape in borrowed office space in Harvard Square sold for $340 million. Fast Company celebrated its twentieth anniversary in October 2015 and continues shape the global conversation about business.
Since starting Fast Company, Bill has also written three books on leadership and change. His new book, Simply Brilliant: How Great Organizations Do Ordinary Things in Extraordinary Ways, will be published on September 20, 2016. His last book, Practically Radical, was a Wall Street Journal bestseller. His previous book, Mavericks at Work, was a New York Times bestseller and was named a "Business Book of the Year" by The Economist and the Financial Times.
Bill created the "Under New Management" column for The New York Times and has published numerous essays and CEO interviews in the Harvard Business Review. He now blogs regularly for HBR.
A graduate of Princeton University and the MIT Sloan School of Management, Bill lives outside of Boston with his wife and two daughters.
Check out Bill's book (Simply Brilliant: How Great Organizations Do Ordinary Things In Extraordinary Ways), have a look as his website here, connect with him on LinkedIn here and say Hi to him on Twitter @williamctaylor.
"
"
"
Photo Credit: Tallent Show Flickr via Compfight cc