Today's interview is with Michael O'Leary, Chief Executive of Ryanair, a European low-cost airline, headquartered in Dublin, Ireland. Ryanair is also the largest European airline by scheduled passengers carried and also the busiest international airline by passenger numbers. Michael joins me today after he responded to a recent article I wrote (Does Michael O'Leary Really Care About Ryanair's Customers, Or Is He Just Being Pragmatic?) but also to talk about humility, Herb Kelleher, bourbon and starting to listening to and being nicer to customers.
This interview follows on from my recent interview: Customer feedback is the most effective way of improving the financial performance of a business – Interview with Guy Letts of CustomerSure – and is number 144 in the series of interviews with authors and business leaders that are doing great things, helping businesses innovate and delivering great service and experience to their customers.
Highlights of my interview with Michael:
Ryanair is the world's largest international airline, Europe's largest low cost carrier and Europe's version of the US' Southwest Airlines.
Southwest was developed by an Irish visionary called Herb Kelleher.
In response to a recent post on my Forbes.com column: Does Michael O'Leary Really Care About Ryanair's Customers, Or Is He Just Being Pragmatic? – Michael sent me a letter.
In the letter, Michael wrote saying "I am the only airline Chief Executive that really cares about my customers which is why I have spent 28 years driving down the cost of flying in Europe, this year Ryanair will carry over 100m passengers and save those passengers more than €10n compared to the average airfares being charged by our competitors in Europe".
Airlines have a terrible image for customer service.
Many airlines say that they care about customers and service but, in fact, all they are doing is increasing the cost of air travel, through things like fuel charges and prices.
Ryanair has been actively fighting against that and driving down prices across the board.
But, whilst Ryanair has been focusing on driving down the price over the last 20+ years as a way of getting big and competitive, we now realise that we need to do more than offer customers the lowest price in every market.
Despite low prices working very well, some customers didn't like what we were doing i.e. free seating or charging for an additional cabin bag so we have changed that and are embarking on a series of other changes to change/remove the things that our customers don't like.
So, we have decided to listen to our customers and make changes where it doesn't impact on our cost base.
A couple of particularly high growth changes we have made are catering for business travelers and families traveling with children.
It's been very easy for our competitors to slag us off for being 'cheap and nasty'.
However, there has been an element of our service over the last few years that has been 'cheap and nasty' and 'that's my mistake'.
A degree of humility always succeeds in business.
It's written somewhere that Michael studied SouthWest Airlines and their low-cost and service approach a number of years ago. Michael did go drinking with Herb Kelleher but, unfortunately, doesn't remember much after 8pm…..Herb was too much of a bourbon drinker for Michael! Herb, apparently, continued on drinking til 2am.
Ryanair were the first airline in Europe to replicate the Southwest Airlines business model.
But, Southwest is no longer the lowest cost airline in the US. Ryanair, on the other hand, is staying true to the original Southwest model of being the lowest cost carrier, offering the lowest prices in every market.
In fact, Ryanair is now starting to emulate the original Southwest maxim 'Low fares and fun'.
The new changes have been a spectacularly successful learning experience for Ryanair over the last 12 months and they are seeing it reflected in their business results too.
'If I had known that being nicer to my customers was going to be so good for business, I'd have done it years ago'.
99.9% of passengers when they start looking for flights start with the question: "What's the lowest fare?"
But, they don't want low prices and unresponsive customer service.
So, Ryanair's promise now is to offer it's customers the lowest fares in every market but they will also attend to their needs.
They are now in Year 2 of their 'Always Be Getting Better' programme and this year they have introduced: a new US website – with $ pricing & bookings, a new Customer Charter, reduced airport and sports Fees, the introduction of a new native mobile app as well as a new GDS deal with SABRE.
Check out Ryanair's new Customer Charter.
Still to come this year is a new Fare Comparison (against all competitors – a world first) & "Hold a Fare" Feature (coming in Sept), an improved Personalised Website (coming in Oct) and new A/C Interiors, Uniforms & Menus (coming in Nov).
A set of low-cost transatlantic routes is on the cards but is probably 4-5 years away or until the availability and valuation of new long haul aircraft improves.
Michael's shameless plug is for what he has learned in the last 12 months and that is humility.
He says about that that it's very difficult for someone who is Irish to be humble. We generally believe that we walk on water.
We have to continuously learn from the mistakes that we, and I, make.
The key mistake that I have made in recent years is not listening to our customers and that is not a mistake I am going to repeat again.
About Michael (this bio (below) was taken from Michael's bio on Ryanair's corporate investor page – I'm not kidding – although it now seems to have been updated but I like this one better)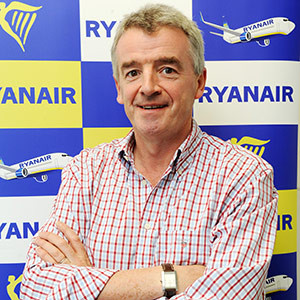 Born, at Christmas, in a stable in 1961, he was a boy genius, who excelled both academically and in sports. Having represented Ireland at bog snorkelling and flower arranging, he graduated from Trinity College in Dublin as soon as they could get rid of him. He became another boring KPMG accountant until divine inspiration sentenced him to lifelong servitude in the airline business, as he is manifestly unsuitable for employment in any properly functioning industry.
Despite his best efforts, Ryanair is Europe's favourite airline carrying over 89m customers this year at Europe's lowest fares (saving them over €10 billion annually), with great customer service including the most on-time flights of any major airline. Ryanair operates more than 1,600 low fare routes from 71 bases across 30 countries, connecting 183 destinations with a fleet of 300 new Boeing 737-800 aircraft. Ryanair has recently placed orders for up to 380 new Boeing 737 aircraft, which should allow it to double in size to carry over 150m customers annually by 2024. Ryanair currently employs a team of 9,500 leading aviation professionals each of whom are dedicated to extending Ryanair's industry leading 30-year safety record.
Bearing a remarkable resemblance to George Clooney's younger brother, it is widely reported that most women find him (sadly) resistible!!
Check out Ryanair's website: www.ryanair.com and say Hi to them on Twitter @Ryanair.
Photo Credit: Intrepidteacher via Compfight cc